If you are using messenger and you don't know about how to wave on Facebook messenger then you are at right place, you got the solution here.
Facebook is a very popular social media platform. It is very enthralling as well as a useful application having over 2.8 billion active users.
Facebook Messenger is another user-friendly application. It's totally free to use. It allows you to connect with new people daily and helps you to build strong connections with them.
It has various interesting and helpful features. You can send texts through it, images, videos, GIFs, and whatnot.
However, one feature that troubles the users the most is the "Wave feature". People sometimes get confused how to wave at someone.
But now, all your troubles came to an end. We are here to make things easier for you. In this article, we are going to share each and everything about waving at someone and how to wave on Facebook messenger in less than a minute.
Let's start with the topic!
Wave At A New Connection
If you're familiar with Facebook Messenger, then you might have noticed that whenever you add a new friend or connection in your friends list, an automatic option appears in the chat box of you and your new friend even if you both haven't started any conversation yet.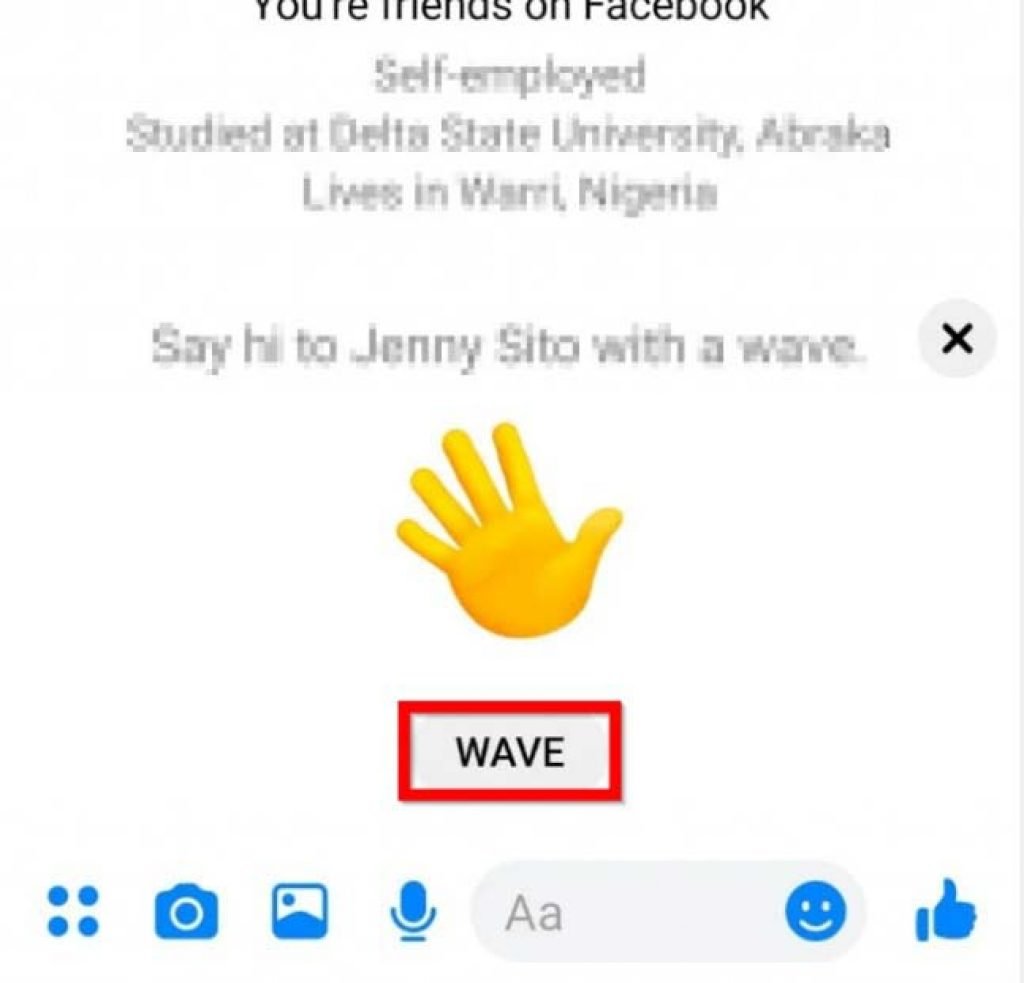 When you open the chatbox, you find a message or note sent by the app, saying that the other person has waved at you. It looks something like a hand with yellow colour.
The app suggests you to automatically wave back at your friend. You'll find a wave option presented at your side. You just have to click at it, if you want to wave back at your connection.
However, this automatic wave option is available for the first time only. If you want to wave at any of your older friends, then you have to use a secret trick, there's no automatic option for that.
Now, we are going to share that secret trick with you. Here's it..
Wave At Your "Active" Friends
If you want to wave at any of your longtime friends that you've talked to before, follow the same procedure as mentioned below and you'll be able to add a wave in your ongoing chat with anyone out there.
First open the Messenger app. Now, instead of opening anyone's chats, tap on the middle icon that looks like two persons. This will take you to the Contacts Tab.
At the top of your device's screen, you'll notice two options, one for the Stories and the other for the "Active" users. You have to open the "Active" users list, all your "Active" friends will appear here.
You'll find a gray hand exactly at the right of your "Active" contacts' name. Now, choose a contact that you want to send a hand wave and just tap on that gray hand option. And yeah! You're done.
You've successfully sent a hand wave to your longtime friend in less than a few minutes!
We are done with how to send a wave in messenger. Now, we'll find something easier than this. Have a look below!
Use Facebook's Website To Wave
Sending waves via Facebook's official website is even easier than using Messenger to do the same. For this, all you have to do is just open the official website of Facebook on your laptop or desktop.
You'll notice the entire list of your contacts will appear at the right side of the web page. You'll not find any waves there. But, as soon as you'll point your arrow over the names of your contacts, a grey hand will appear.
Now, all you have to do is just click on that grey hand sticker presented there, and your wave will be sent to your friend whom you want to send it.
That being said, you are entirely covered up with how to send a wave in messenger. Let's have a look at how you can undo this in case you've sent it by mistake.
Unsend The Wave
If you've sent a wave to someone by mistake. Then, you can actually take it back by deleting it for everyone. But, it's only possible if it's been less than 10 minutes since you've sent the wave.
To do so, just open the chat of the person whom you've sent the wave by mistake. Now, tap on the sent wave and wait for a while there. You'll shortly find an option there asking you to "Remove" the wave.
Tap on the "Remove for everyone" option and the wave will be removed from both of the sides and none of you and your friends will be able to see that wave anymore.
Some Other Interesting Features And Emojis Of Facebook Messenger
Another way to spice up the chat is to use the interesting emojis that are available in both the Facebook's website as well as the Facebook Messenger.
You'll find an extremely huge amount of emojis and stickers, which makes it interesting as well as useful for the users to express their emotions and gestures using a vast variety of stickers and emojis.
With these you can actually tell your friends if you're sad or screaming out loud with happiness without having the need to type a single word.
The Final Words-
In this blog, we have tried our best to deliver the exact and helpful information to you regarding everything related to the "Wave" feature of the Facebook Messenger.
As we all know that Facebook Messenger now allows its users to send emojis and stickers to their friends and family. It eases out the process of the users. You are now totally covered up with how to send a wave on Facebook messenger.
If you have any other queries, then feel free to leave a comment below, we would be happy to serve you with the right information.
Keep visiting SoftwareVital for the latest technology related news and information.