---
Instapage Overview
Tyson Quick founded Instapage in 2012 as a modest page builder that would improve the marketers' performance so that they can get better results from paid campaigns. Today, it has grown into a suite of tools that makes it possible to promptly develop professional-looking landing pages, perform quick tempo testing, and create more revenue from each marketing campaign.
In this Instapage review, we will analyze their tools and talk about the features, pros, and cons, etc.
Instapage features
Instapage has several features that make it a reliable tool for handling landing pages for various purposes and industries. We will have a look at all key features to give you a clear idea of what it can do.
Pixel perfect landing page builder
Many landing page builders fail to work because, in those builders, users can not truly drag and drop the elements. Instead, elements get snapped into place once they're dropped on the page, and then users need to manage all the elements like padding. But
Instapage is different. Its landing page builder enables users to drop elements exactly where they want to and drag them easily without resistance. It also provides some guidelines so you can be assured that things are flawlessly aligned.
There are various elements that users can apply to create landing pages, such as:
Instablocks (reusable blocks)
Headlines
Videos
Images
Boxes
Paragraphs
Forms
Buttons
Circles And more
Within the Instapage landing page builder, users can set up conversion goals based on actions taken on the page or off the page. Initiate the conversion action as link clicks and form submissions whenever the conversion happens on the page. When it falls on a different page, a snippet of code that users have to add to the page implies that the conversion is complete (i.e., a thank you page).
There are some basic fonts, such as Google Fonts and Adobe fonts. If the available ones aren't enough, then users can also upload their Google and Adobe fonts.
After updating the page, various options such as integrations, search & social metadata, and third party scripts are there. For publishing, users can prefer WordPress, Drupal, a custom domain, or a test domain.
The whole page building experience is responsive and straightforward to complete – even for absolute beginners.
A/B testing
A landing page builder only considers good when it gives users an ability to test what they have built so far to improve it over time. Instapage A/B testing is called Experiments.
It provides a feature when it asks users to write a hypothesis about what you're testing. It makes users answer the question: what do you think will happen if you make these changes? In case if the user is new to A/B testing, this helps you to consider the whole experiment and not waste time on things that won't end up generating profits.
Global Blocks
We have often witnessed one issue while running the landing page builders is to recreate the same elements repeatedly. For instance, footer areas or disclaimers that need to be uniform across a website. Instapage Global Blocks features eliminate that problem.
In Instapage, there are several default block templates users can include in their pages to get started. The advantage of global blocks is that users can update them in one place; they're updated everywhere they've been used.
Form builder
Instapage enables its users to design basic forms that appear on the page or are hidden behind a button. Moreover, users can design multi-step forms that demand more information when someone submits the visible fields' information.
When someone submits a form, there are many options available. You can release a file directly to a user, display a thank you message, or redirect users to another page. To incorporate the form with your email marketing service or CRM, you must exit the editor and go through the publishing process.
Users cannot do advanced things with the form builder like create sticky bars, exit popups, etc.
Heat maps
Instapage heatmaps get activated by default and display information on your pages with as little as 15 visitors. There are different heatmaps for mobile and desktop, which users can see separately.
When you open the heatmap interface, you will understand where people have clicked by default, but you can access three separate views.
Scroll depth. It shows you how far down the page people get before leaving.
Clicks. This view shows you what people are clicking on.
Mouse movement. Shows you where people have spent the most time on your landing page
Each change of your page has various data associated with it, so make sure you're looking at the best version to get reliable information.
Robust reporting
Apart from features, one of the crucial things with a landing page tool is access reports about page performance. Yes, if you want to know how many people visited the page and the conversion rate, apart from that, there is much more to look at.
By taking the help of Instapage Integrations with ad platforms, users can see more information such as cost per lead, cost per visitor, and development. Recognize your best traffic sources on a deeper level. Not just how much click will cost you, but how much leads are costing and the traffic quality?
You can even break down reports based on date range, mobile vs. desktop, and even organic vs. paid traffic to get a fair idea of your performance.
Ad optimization
Ad optimization is a unique feature of Instapage that helps you to optimize your advertising over time. It has a feature named AdMap, which makes it possible to personalize more the experience visitors have. You can understand what ads are mapped to what pages, see effectiveness with a post-click score, and link the most suitable ads with the best pages.
It has the potential to handle ads and pages from within Instapage and cut down on the back and forth among platforms. Connected with Instapage A/B testing, this becomes a compelling way to optimize your ads.
Team collaboration and organization
Instapage has designed a thoughtful team collaboration interface. If you work with freelancers or even clients, you can invite them to Instapage and allow different permissions. Based on those permissions, people will be able to update your pages, comment, or even control your account settings.
Instapage Templates
With any landing page builder, templates are a vital part of the mix. They can assist in kickstarting your creative juices or giving you a proven structure for your landing pages. All you require to do is refresh it to suit your brand.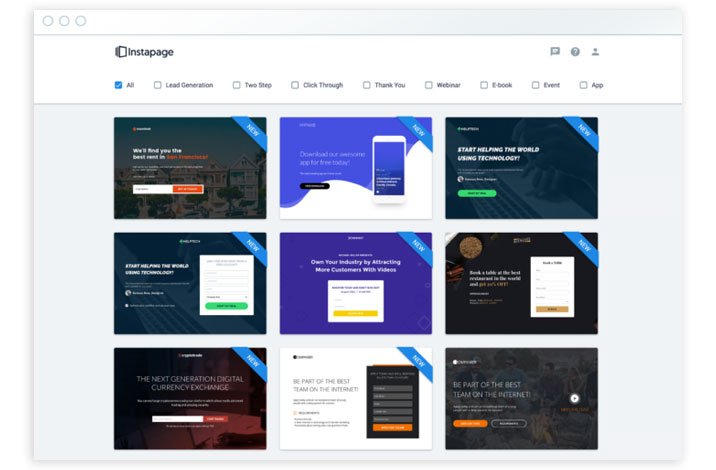 Instapage has more than 200 landing page templates that span dozens of industries. If you're having difficulty while designing the page from scratch, these templates will speed up the process.
Instapage integrations
Another important thing that matters is a landing page tool ability to work nicely with your tech stack. No one desires to spend hours creating different landing pages to realize the tool doesn't integrate with their CRM or email marketing service.
That's not a problem with Instapage. It has inherited integrations with popular tools like ActiveCampaign, Mailchimp, Intercom, and Zendesk. If parts of your tech stack aren't designed within the native integration ecosystem, you may still be able to make it work with a Zapier integration.
Instapage Pricing – how much does it cost?
Instapage Pricing is divided into two tiers.
Business – $199/m or $149/m (annually).
Enterprise – custom pricing based on a quote
The business plan comes with the core features you require, such as A/B testing, AdMap, global blocks, the Thor Render Engine (speed optimization), etc. The enterprise plan allows users to have more access to auditing, real-time collaboration, AMP landing pages, and many more features designed with teams.
Instapage Review: Pros and Cons
Pros
The landing page builder is simple to learn and use – even for a beginner
You have a lot of adaptability in design because you're not forced to use grid lines and go through weird positioning prices by attempting to shift something X number of pixels
Blends with popular third-party tools
Robust reporting features that give you all the info you want and none of the info you don't
An extensive collection of templates which can be quickly edited to match your brand
Simple and effective A/B testing to increase conversions over time
Cons
It's more costly than many other landing page builders available
The builder doesn't update often but can be construed as positive because why change what's working
Most times, you have to create on the desktop then do a lot of editing on mobile to make sure both versions look good.
Instapage Customer support
The customer support provided by Instapage has been solid. The representatives are trained and helped users to solve the problems.Other people have criticized that support fell off after the trial period. Apart from that, there are multiple ways to get their support such as a knowledge base, videos, and email.
Instapage review summary
In the end, Instapage is an excellent landing page builder. It's designed a simple interface that even a complete beginner can apply and master to create landing pages. It has extensive features to build and optimize pages, delivers lightning-fast pages, gives simple A/B testing, and more. If your chief concern is building pages that convert, then Instapage is an excellent choice. If the price is the main concern, it's necessary to know that Instapage is a more costly option.