Markets often get confused when it comes to the best SEO tool. Since there are many choices, but out of them, only two tools are there that are worth paying for. So in this blog, we are going to compare the best two SEO tools SEMrush vs Moz.
Moz vs SEMrush: Features Comparison
SEMrush is an all in one SEO toolkit, and its pricing starts at $99.95/mo, which is used by over 6 million people worldwide. In contrast, When we talk about MOZ, it's an advanced SEO toolset, and its pricing starts at $99/month, which is supported by the biggest community of SEOs. Although SEMrush and Moz are both SEO toolkits, SEMrush provides even more helpful tools than Moz. So let's first have a peek at all the features of SEMrush vs Moz.
List of Moz features:
Allows proprietary metrics like Page Authority (PA), Domain Authority (DA), and Spam Score, which are notably useful for all kinds of bloggers and marketers to examine the popularity of a site
Save keyword lists that you can trace whenever you need
Track your keyword rankings both local and national searches
Search Visibility score provides you a holistic view of how you rank for your keywords (great feature for SEO nerds)
The audit feature is great as you can quickly find all the website problems and fix them
Offers suggestions to enhance your on-page optimization
The ability to create custom reports
List of SEMrush features:
Keyword Magic tool carries over 20 billion keywords in its databases
Custom SEO reporting
Organic research which helps you quickly find your competitors top performing keywords, new competitors,
Analyze domain position changes, and so on
Backlink too which allows you to perform in-depth link review of any website
Keyword research tool enables you to find the best keywords for SEO and PPC campaigns
Traffic Analytics tool lets you find any web site's traffic and observe their strategies
Market Explorer allows you to analyze new markets and niches
Domain vs. domain comparison
Site Audit tool helps you check your site's health, find all your site concerns, and fix them
Social media tracker
Brand Monitoring
On-page SEO checker
Advertising research tool to obtain your competitor's ad copies and strategies
Major Differences Between SEMrush vs Moz
Moz Pro allows rankings for only 300 keywords. On the other hand, SEMrush allows you to track up to 500 keywords (daily updates).
The dashboard of SEMrush provides you more data than Moz Pro.
Now let's start reviewing the difference between the two amazing tools SEMrush and Moz. Both of them are incredible SEO tools, Moz, and SEMrush.
These two SEO tools are surely worth every single penny. They are so easy to use that even a non-tech savvy person will find them very easy to improve their rankings to get more sales and keep a check on their competitors.
Moz Pro Dashboard Overview (With Pros & Cons)
Moz Pro allows many tools, including keyword research, custom reports, site crawl, page optimization, etc.
Pros of Moz
The analytics and results that Moz gives are very detailed and helpful.
Its spam score will assist you in finding potentially spam links on your websites.
It allows a 30-day free trial so that you can examine all of its features.
Moz Pro supports you to uncover lots of quality link building sources to improve your traffic to your blog.
Effective community and forums. Have any problems with using the Moz tools? Just ask your question in Moz forums, and you will get incredible responses. If you are a beginner, what can you expect more?
Moz continues to update their tools and attach more features to their list. It will surely help SEO guys to raise their SEO rankings.
Cons of Moz
It has many great features which are highly useful. It may take a while to figure out all of its functionality when you first get started. Once you figure it out, it will be a lifesaver.
The pricing starts at $99. At comparable pricing, you can get a ton of more features from SEMrush.
SEMrush Dashboard Overview (With Pros & Cons)
From domain overview to backlink gap to position tracking, you can discover any SEO-related task using SEMrush.
Pros of SEMrush:
Currently, SEMrush has more than 20 billion keywords data from 142 geodatabases (no matter what niche you are in, you can get tons of keyword ideas)
SEMrush gives the MOST accurate keyword data for search volume (this is the #1 reason for anyone to use SEMrush over Moz)
It also gives excellent SEO reporting, including custom PDF reports (branded or white label reports)
SEMrush assists you in growing your search traffic, rankings, and keyword visibility.
You will find about every tool that encourages you to improve your SEO, from finding keywords to backlink analysis to keyword position tracking. It includes everything.
It allows you to compare Domain Vs. Domain metrics that support you to compete with your competitors.
You can track your contenders and consequently enhance your SEO ranking.
It provides more competitive data, and each keyword is supported by a long history like how successful it is, who has used it, what is its value, and so on.
You get an estimate of how much your competitor might be spending on AdWords in comparison to Product Listing Ads (PLAs).
If you want to understand how good or bad a website is performing on Google, then apply SEMrush's site audit tool, and you will see all the site issues.
Cons of SEMrush:
Even with the Moz Pro base plan, two users can have the same account (whereas the SEMrush base plan permits only one user)
You can follow up to 5 sites with Moz, whereas the SEMrush starter plan allows just three sites.
Moz Pro Pricing
Moz Pro pricing plans start at $99 per month and go all the way up to $599 per month. You can save up to 20% when you pay yearly.
SEMrush Pricing
SEMrush pricing plans start at $99.95 per month and go all the way up to $399.95. You can save up to 16% when you go with their annual plans.
Keyword Research Overview of SEMrush vs Moz
Here's how the keyword research tool on SEMrush looks like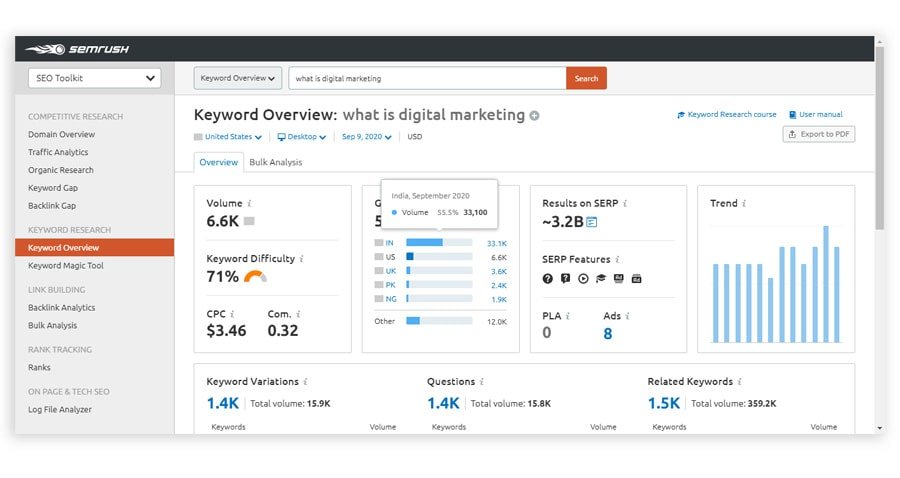 In SEMrush, you'll find many keyword data, including search volume, paid search data, CPC, keyword suggestions, and keyword trends.
You'll also find;
Phrase match keywords (with volume, CPC, SERP)
Related keywords (with volume, CPC, SERP)
SERP features
Question-based keywords and so on
Here's how the Moz Pro keyword tool looks like;
You'll get keyword data in Moz Pro, involving monthly volume, keyword difficulty, organic CTR, keyword suggestions, and SERP analysis.
Site Audits Overview of SEMrush vs Moz
Here's how the site audits look like in SEMrush;
In SEMrush, you can get a full health score of your site along with;
Errors
Warnings and
Notices
It also provides you suggestions on correcting all your site issues to enhance your site's health score for better SEO performance.
Here's how the site audits look like in Moz Pro;
Like the SEMrush site audit tool, Moz Pro also allows a site crawl tool that assists you easily find and fix all your site issues, including missing H1 tags, alt tags, lengthy URLs, etc.
Backlink Analysis Overview of Moz vs SEMrush
Here's how the backlink analysis tool look like in SEMrush;
You can discover all the backlink origins of your competitors (along with new and lost links).
Here's how the Link Research look like in Moz Pro;
Moz Link research tool also allows extensive data to find any site's link and new and lost links.
Why Use SEMrush?
SEMrush is a one-stop platform for all SEO tools that helps you find profitable keywords and crush your competitors by spying on their keywords, backlinks, traffic, and ad strategies.
If you aspire to exceed your competitors, this is the only tool we recommend.
We've been using it for the last four years and very satisfied with the results so far. SEMrush not only assisted us in growing our site's search traffic by 15% just within 30 days, but it is also helping us to analyze our keyword positions properly.
SEMrush databases are renewed regularly, and that's the one reason why you get accurate data.
If you're looking for the Best tool among Moz vs. SEMrush and looking for a more useful tool to know what keywords your competitors are ranking for, and their traffic, backlink sources, etc. – SEMrush is the ideal tool for you.
Why Use Moz Pro?
Moz is an SEO software that enables you to unlock all kinds of keyword metrics, on-page recommendations, link building opportunities, crawl errors, online mentions of your brand, etc. If you are serious about your blog or business, you need to spend in powerful SEO tools to automate tasks that usually take hours to complete. One such is Moz Pro, an extensive SEO software suite with various SEO functionalities.
It allows both basic and advanced research tools like keyword research tools, an SEO keyword generator, and link analysis that gives detailed data on your inbound links and link quality to improve your search engine optimization.
Are Moz tools worth paying for?
We've applied Moz tools for a long time, and we're very happy with the tools they give. Every tool is distinguished from the other; you will have access to most of their tools by just logging into your Moz account after signing up. They are worth your money if you aim to take your SEO optimization to the next level.
Verdict: If you are applying content marketing to grow your online business and website traffic, you should try Moz tools. They help you properly optimize your website content to improve your search traffic.
Is the SEMrush tool worth paying for?
This SEMrush VS Moz review was done to provide you whether these tools are worth paying or not. So yes, it's worth every cent. We're not stretching it but try SEMrush free for 30 days. You won't regret buying it.
Verdict: SEMrush is the #1 tool that is profoundly recommended by the majority of the SEO experts. If you are on a budget and want to obtain an SEO tool that supports you to perform almost everything from finding keywords to discovering on your competitor's backlinks, try it.