In this blog You will learn about the features, pros and cons of hostinger. Before going to hostinger review we will know something about the company.
In 2008, a company named 000webhost.com was established. Which was a free hosting company that offers you hosting at no monthly fee without any advertisement? Then in 2011, the Hostinger web hosting brand was born.
Today in the web world, this is the only company that offers excellent web hosting at the cheapest rate.
Hostinger had created more than 10 million subscribers in May 2014. By the time of January 2014, it had created a base of 29 million users.
This is the most exciting development in ten years. The company has unlimited and free features. But are all these additional offers unlimited and free?
To know all this, I bought a web hosting so that I can personally check it. I was not sure that their hosting is so good. So I hosted one of my websites on the hosting server, and for the next three months, I continuously monitored its performance.
It was an incredible experience for me that I chose a proper hosting. And even today, I am hosting my three websites on Hostinger.
But is Hostinger the right web hosting provider in 2020?
Hostinger is famous for its low-cost web hosting. If you refer my guide to the best web hosting provider, you'll see Hostinger in the best cheap web hosting plan in the first place.
Therefore, for those looking for affordable web hosting options, Hostinger should be considered. You can use this guide to determine if hosting is right for your website.
Do you want to know about the advantages and disadvantages of Hostinger? So let's read
Advantages of using Hostinger
Its speed, uptime, and easy to use hPanel. Excellent support and proper load handling.
1. Fast Load Time – 350ms
Fast page load time is crucial for any website user to use it.
Have you ever tried to open a web page just waiting for the website to load for a while and get stuck?
We all have. Also, you may not stay for a long time. According to Neil Patel, if it takes more than three seconds for the site to load, 40% of people will leave the site.
Where is the Hostinger Server Location
Hostinger has servers in the United States, Asia, and Europe (UK). According to reports, each is connected with a 1000Mbps connection, ensuring stable load time.
How did they fare in our tests?
| | | |
| --- | --- | --- |
| January – 2020 | 99.5% | 302 ms |
| February – 2020 | 99.5% | 302 ms |
| March – 2020 | 99.5% | 302 ms |
| April – 2020 | 99.5% | 302 ms |
| May – 2020 | 99.5% | 302 ms |
| June – 2020 | 99.5% | 302 ms |
1. Mostly Good Uptime 99.95%
Low cost web hosting services look attractive on the surface. However, if the runtime rate is insufficient, it is not worth using this method.
Usually, we want to see that the average up-time for a web hosting service per year is 99.9%. Hostinger's monthly range is 99.8%, despite dropping to 99.04%, which undoubtedly makes the mid-level drop. But 100% up-time for a few months saved its average.
Overall, Hostinger's up-time rates are good enough for most small websites.
| | |
| --- | --- |
| January – 2020 | 99.95% |
| February – 2020 | 302 ms |
| March – 2020 | 302 ms |
| April – 2020 | 302 ms |
| May – 2020 | 302 ms |
| June – 2020 | 302 ms |
3. Faster Loading With Cache Manager
We are very happy that Hostinger has proposed several ways to increase the loading speed. One of them is his cash manager. Enabling this can reduce loading times and speed up!
To open it, you need to do the following.
Type HPanel and click "Manage" on the site where you want to open it. Scroll down to "Advanced". You will see "Cache Manager" listed as one of the options. Click on "Cache Manager"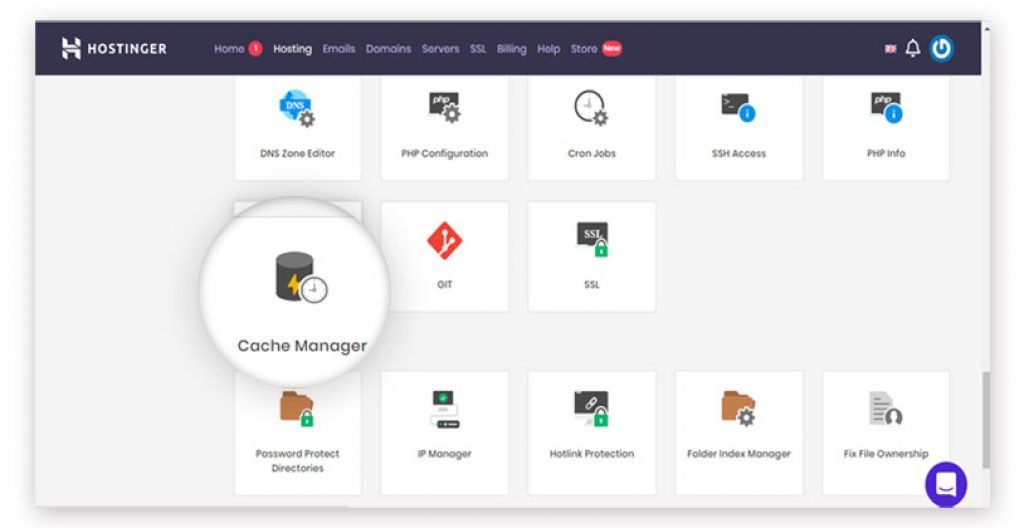 Once inside, you just need to click "Edit" and you should see the "Auto Caching" button turn blue, indicating it is on. Click "Clear All" and you can get started!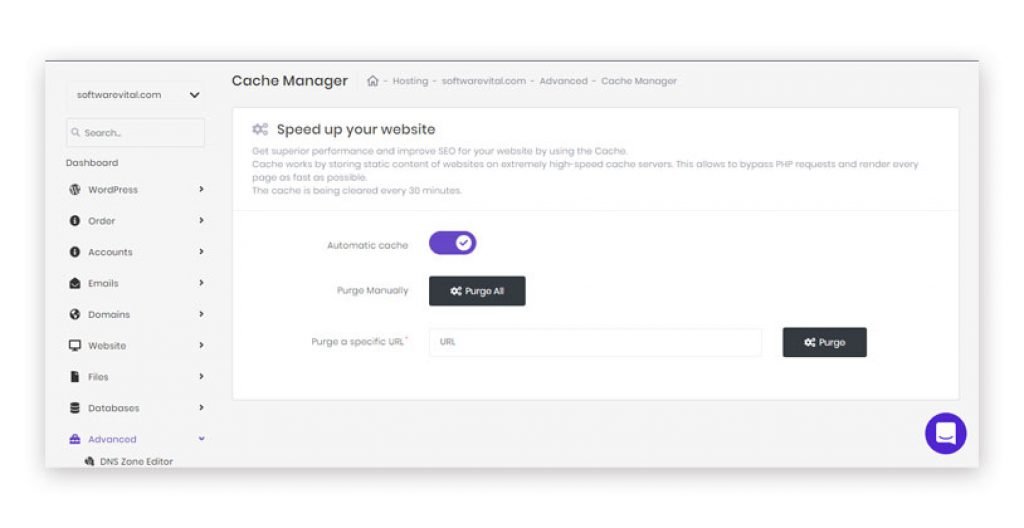 4. User-friendly Custom Dashboard
Hostinger provides a modern, easy-to-use and user friendly interface that lets you find everything you need in one place.
This way you can track login information, update billing information, manage fields and track emails from your control panel.
The control panel is not a traditional control panel, but the large icons make it easy and precise to find the content you need and the time you need it.
5. 30-Day Money-Back Guarantee
Hostinger offers a variety of payment methods, including Visa, Paypal, Mastercard, Discover, Bitcoin, Maestro, American Express and JCB.
They also offer a 30-day money back guarantee. Therefore, if the performance or experience is not good, you can try and get your money back.
Please note that according to Hostinger's refund policy, not all products are refundable and some products are subject to separate refund terms.
6. Multilingual Responsive Customer Support
Customer service can create or destroy virtual hosts. If your site is down for any reason and you cannot contact Customer Service as soon as possible, you may lose a lot of sales revenue.
Hostinger does not disappoint. The company, a multi-lingual customer service team, provides real-time chatting and integrates wireless phones into its primary support system.
You can chat in real-time only after logging into your Hostinger account. We are happy that Hostinger offers live chat, but it will be more helpful to provide live chat to everyone. Accessing the live chat is very simple. After logging in, an icon appears instantly in the lower right corner of the page.
It has 24/7 great customer support plus ticket, email and live chat support options.
Hostinger resources are precious, concise, and comprehensive so that you can find instructions, information, and answers to your questions.
It has tutorials (from website creation to SEO) as well as gifts and illustrations on how it works.
Users can search for articles in the database or choose from three categories:

Website
Domain
General

7. Free Domain!
Obtaining a free domain name from your web site helps greatly, and Hostinger supports new business owners by providing free domain names, and of course it is unique!
For geographical areas, the only problem is that you also want WHOIS protection to protect your identity online. Some domain name registrants (like Namecheap) provide WHOIS protection, but not all registrants offer it. Usually, you will have to pay for this, but unfortunately this is the case for Hostinger.
8. Free SSL
The SSL certificate is very important because it can establish a secure relationship between the customer and the site. It can build trust and make you safer when shopping.
When loading any non-SSL website in the Chrome browser, Google will display the text "This website is not secure", thereby reducing the possibility of purchasing products from your website.
SSL is one of the easiest ways to improve your website's SEO ranking, so we value this feature. This is great for website owner that Hostinger providing free SSL Certificate
9. Free Zyro Website Builder
Hostinger includes free website creators on the website of your choice (although popular website creators are considered superior). There are also many different models to choose from.
After choosing a template, you can use the Hostinger website builder to customize everything on the page.
10. Unlimited Features
As if everything else on this list is not impressive enough, the Premium Hostinger plan continues to amaze with its full list of unlimited possibilities. Let's look overview of some hostinger features.
Daily Backups
Access Manager
Custom hPanel
LetsEncrypt integration
Pro-active and predictive server monitoring
SSD Drives for greatest speeds
Github Integration
99.9% Uptime Guarantee
Unlimited MySQL Databases
4X Speed Boost
48X Allocated Resources
Unlimited Email Accounts
Nginx micro cache
Hostinger Cons
We have learned about some of the beneficial features of Hostinger till now.
I want to tell you that there is no webhost company that does not have flaws. In the same way, now we know about some features of Hostinger that do not provide,
1. No Daily Backup For Starter Plan
Hostinger does not offer daily backup features in its starter plan. You can only take a weekly backup in the starter plan.
But the best thing about hosting is that you can buy this feature for $ 0.95 / month. But you can also think that Hostinger is already providing you hosting with some useful features for so little money in the market.
2. You must be logged in to chat on live chat.
If you are logged into the website of the hostinger you will get the facility of live chat, If you are not a customer or have not logged in, and you have some questions that you want to ask them, then you cannot chat live without logging in.
If you want answers to your questions, you can create a support ticket by going to the link given below in the website.
3. Pay Extra For New Domain
Users who prefer advanced or commercial shared hosting plans and all annual cloud hosting plans can register domain names for free.
However, other domain name registrations are not free. However, they are quite cheap.
If you choose one of their premium or business plans, you will get unlimited subdomains, but only one free domain name.
You can renew the expired domain name within 36 days after it expires without paying an additional fee. Then, according to Hostinger's "Full Registration Recovery Recovery Policy", the "Redemption Grace Period" will allow you to recover a 66-day domain name with a 53-day redemption fee.
Faq
Will You Recomend the Hostinger Web Hostinge?
Yes. I Will Recommend
Is Hostinger's Loadtime Really Good?
Yes
Is the hostinger support really good?
Responsive, knowledgeable and friendly customer support.
Conclusion
Hostinger is a great starting solution that I strongly recommend and as I mentioned before there one of the hidden gem companies in the web hosting industry.