Ahrefs has launched a free SEO tool that provides SEO data and site diagnosis—called Ahrefs Webmaster Tools. I used the device for a test drive, and it must be said that I was impressed by the usefulness of the SEO data on and off the page. It can also help to find and fix website errors.
What is ahrefs webmaster tool?
Ahrefs Webmaster Tools provides free SEO data for each of your websites.
With the help of AWT, you will be able to know which keywords your website is ranking on. Historically, this data is only available to Ahrefs paying customers ($99/month+), so this is a big step forward because Ahrefs will make this data available to all users.
You can only view data for websites you own, But if you want to see another website's data, it is essential to have owner verification. Or you can subscribe to a premium plan or start with a 7-day trial.
How to Verify Website With Ahrefs Webmaster Tools?
If you are not familiar with ahrefs webmaster tools, you need to add your website and verify it before performing other operations. Adding and checking your website for Ahrefs in the webmaster can prove that you are the website's owner or administrator or other authorized users of the website. Also, the ahrefs tool will give you a good understanding of site performance.
Let's start to verify.
Adding a site to ahrefs webmaster tool is a straightforward process—first, signup your ahrefs account. You can also signup with Facebook and Google accounts.
After you sign up, you will get some queries. You can proceed by answering it here.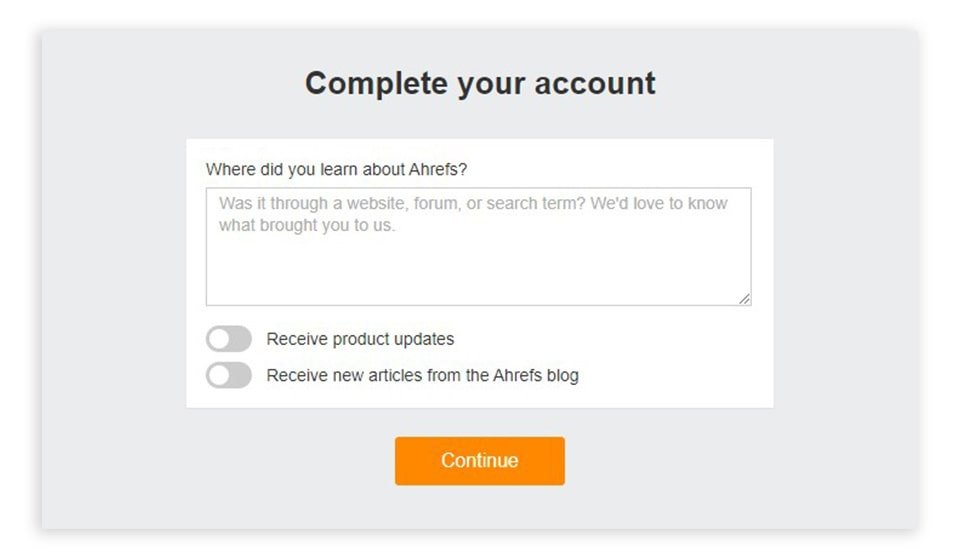 Once you are logged in, You will be on the dashboard of Ahrefs Webmaster Tools.
Now you click on the Add Project button below.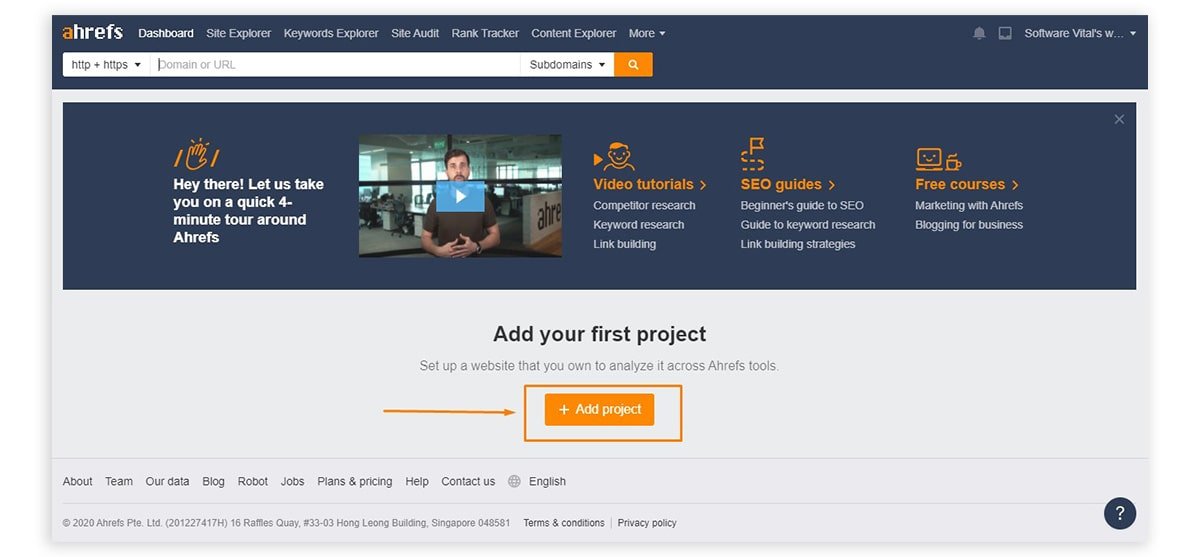 After clicking on the project button, you need to verify your website. There are a few ways to do this:
Here you will get two options to verify. The first through Google Search Console and the second manually.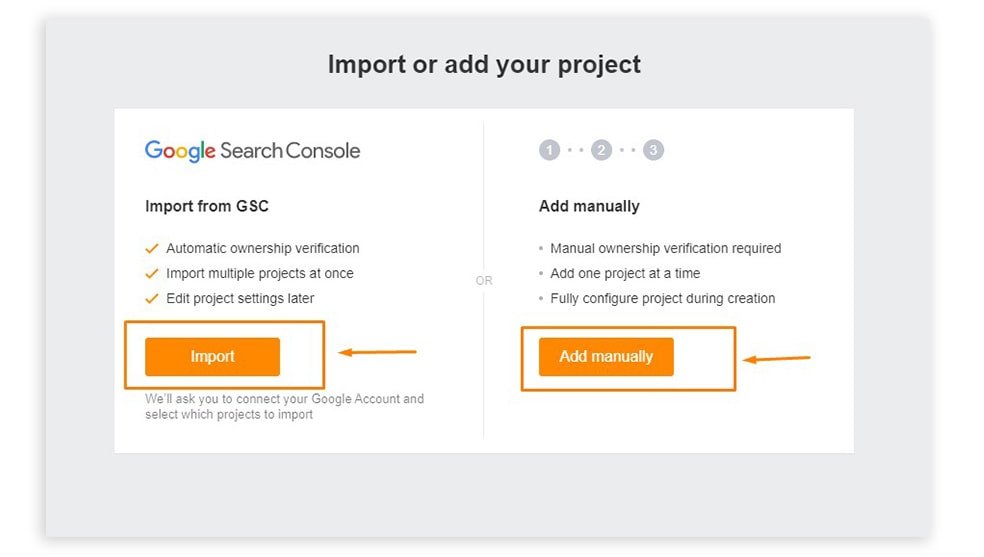 If you want to verify your domain through GSC, then you have to give permission to your Google account. You give permission to the same Google account from which your website is verified in Google search console.
If you want to verify your website manually, then you can get your website verified through these options.
DNS record
HTML file
HTML tag
I will show you by verifying the website through the html tag here. You can get any option selected here and get it verified.
Step 1: Copy the AWT Verification HTML tag
Step 2: Log in to WordPress
Then, log in to your WordPress website, and navigate to Appreance > Theme Editor Dashboard:
Upon activation, go to Appearance » Theme Editor and paste the AWT HTML tag code you copied earlier and paste it into the HTML code of your site's header.php. It should go in the <head> section, before the first <body> section.
Step 2: Go Back to Ahrefs Webmaster Tools & Click on recheck status.
Then you can set up auditing for the site. Like regular Ahrefs tools, a site audit will crawl every page on the site (no size limit) and flag issues like 404 pages, broken links, missing descriptions, or slow loading pages.
Website Audit Tool
After completing the site check, you will see the site report. It also provides you with a comprehensive "health score", so you can quickly see a snapshot of your website's overall performance without a full SEO audit.
Next, To see the keywords and backlinks of your website, you click on our site explorer.
The Benefits of Using Ahrefs Webmaster Tool
There are many benefits to using AWT on your website. Not only can this tool help you improve your SEO practices, but it can also provide you with unique information about your current settings.
Some of the most important benefits include improved search status data, testing with structured data, and enhancing the HTML of a website. You can also check backlinks and optimize internal links.
If you are using AWT on your website, there are many benefits. This tool can not only improve your website with SEO techniques, it can also provide you with unique information about your current settings.
Why Are These 5 Ahrefs Webmaster Tools So Powerful?
#1 View All Of The Organic Keywords You Rank For
With just a few clicks, you will see all the keywords that you are currently ranking.
Their estimated monthly search volume
keywords ranking difficulty
monthly traffic
position of the keywords you currently rank
#2 – Download All Of Your Backlinks
This allows you to see who is linking to you, the page they are linking to, the anchor text used, and the strength of the link.
You can use this report-
Ask the website to update the anchor text to improve it
Open the door to dialogue on this basis
If you are fined, find the backlink and remove it
Find links to forums that can be sponsored
Watch out for new backlinks
#4 – Content Gap Analysis
This shows that all keywords are ranking for competitors, and you should also rank:
You can use the tool to compare 3 participants-
The Content Gap tool is excellent for finding hidden gems that you may not have noticed. Moreover, if your website is ranked the same as your competitor's domain name, you can usually assume that their ranking is easy.
#5 – View Competing Domains & Pages
Ahrefs Webmaster Tools includes two reports that allow you to see precisely which domains and URLs you want to compete with.
The creation of these reports may surprise you because your main search contributors are usually not what you expected.
But knowing them is necessary, especially when using the Content Gap tool to find new opportunities.
5 Questions About Ahrefs Webmaster Tools
1. Is GSC verification only used for confirmation?
Yes. GSC verification was released a few weeks ago, and it is a way to easily verify a website without adding DNS records or downloading files.
2. Are you currently using any data in the free account?
No
3. How many sites can I check on AWT?
You can audit AWT on countless verified sites.
4. Can I use AWT to view all keywords on the website?
Yes, we show you all keywords in the index. You can also export 1,000 rows per report and 10,000 rows per month.
5. Can I use AWT to view all backlinks to my website?
Yes, you can export up to 1000 rows per month and up to 10,000 rows in every report. Combined with many filter and filter options, you can easily highlight the essential backlink data.
Filling the gaps of Google Search Console, Bing Webmaster & Ahref Webmaster Tools
You might be wondering what Ahrefs Webmaster Tools doesn't do in Google Search Console?
Therefore, below is a detailed introduction to Google Search Console vs. Bing Webmaster versus AWT.
SEO HEALTH
GSC
BWT
AWT
Monitoring SEO issues
Limited
100+
How to fix issues
Limited
Detailed
How many links does it show?
1,000
All known links
Broken link data (internal & external)
No
Yes
SEO metrics (domain & page level)
No
Yes
Shows link types (nofollow, ugc etc)
No
Yes
Organic Search Traffic & Keywords
How many keywords are shown
1,000
All Known
keywords
SEO metrics (pages & keywords)
No
Yes
SERP features
No
Yes
SERP snapshot with competitor data
No
Yes
Conclusion
Ahrefs' webmaster tools are a terrible service. The tool has many functions, but many other parts are not described. I am pleased to see that Ahrefs Webmaster Tools gives everyone free access to viable SEO data on these sites.