Do you want to know how your competitors succeed? Do you want to follow the same strategy? If yes, SEMrush is there for you. SEMrush will help you to get your competitor's search engine traffic legitimately. Now, you must be getting a doubt; what can you do with it?

Let's move forward to understand what you can do with SEMrush. You can (legally) get your competitor's

Rankings
Keywords and even their sales (if you are smart enough)
Website search traffic
If you don't know how to do it, read our guide to learn more about it.
Getting your competitor's organic traffic, Google rankings , links and with SEMrush
Step 1: Make a list of your competitors and analyze their sites thoroughly.
If you are blogging for a while, you may have an idea of who your competitors are. Make sure that you know at least 3 to 5 of your competitors and their website URLs. Even if you don't know who your competitors are, then do a quick search on Google with keywords like "marketing" + "top blogs" (insert your industry in the place of marketing) to identify your top contenders.
First of all, log in to the SEMrush dashboard. Now, insert any of your competitor's URLs.
Now, SEMrush will provide you a piece of Immense information around your competitor's website. Observe the screenshot below for a better understanding.
In this case, we have taken the SEMrush Website case for a while as one of our competitors. Here's what SEMrush has shown us.
For analyzing any domain or website, You have to use the "Domain Overview" feature on SEMrush. It will provide you the full details about the entered domain.
So what do you observe? EVERY single detail about the blog, right? You can quickly check your competitor's
Top organic keywords along with their rankings
Backlinks count
Organic search traffic.
Not only that, but you can also discover the competitors of your competitors quickly. See the image below to know the competitors for semrush.com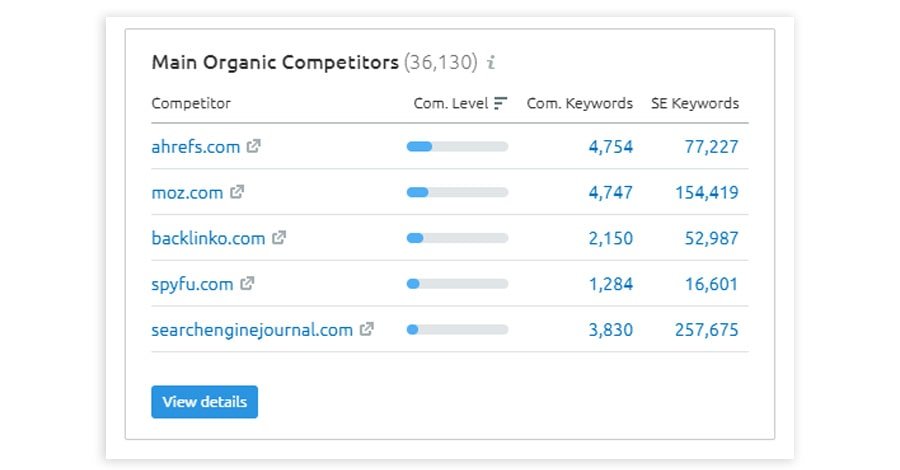 It shows more than five results, so for more, click on the View Full Report button, you will come up with a huge list that you can apply for backlink analysis, keyword analysis, competitor analysis, etc.
Since you have understood how to get the competitor's data, let's dive into the next step, where we start with how to steal your competitor's search traffic using SEMrush legislatively.
Step 2: Find out your competitor's top-performing keywords.
In this step, our only aim is to discover the keywords entrusting your competitor's the most traffic from search engines so you can use some of them to enhance search traffic to your sites. Ready? Let's talk about it.
Let's again take the case of SEMrush to get its top keywords.
To obtain the top-performing keywords of any website or blog, you can either use "Domain overview" and click on View Full Report under "Top organic keywords." You can also use the "Keyword Overview" feature on SEMrush to easily see all the keywords' details.
Here's what SEMrush shows for SEMrush top keywords.
See that over 80,000 keywords transmit traffic from Google to SEMrush (that's a HUGE authority website) and the search volume for every keyword.
When you click on the View Full Report button, it will reveal you even more keywords.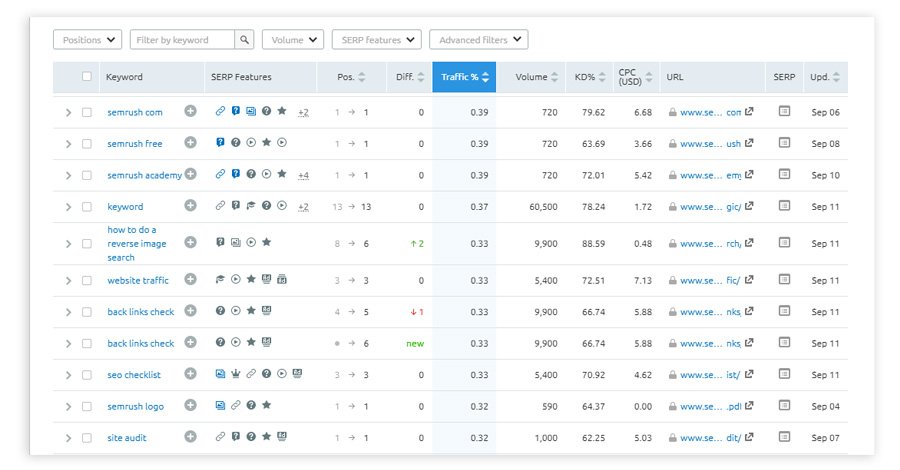 We are only telling you a few of its top-performing keywords; you can find all the keywords of your competitors, sending their sites the most traffic from Google.
You can also simply find out the following information using the Keyword Overview feature on SEMrush.
Search volume for each keyword
Positions for each keyword
Keyword density
Search traffic density for each keyword
Cost it takes to rank for that keyword
CPC information
This information is Large. This keyword information is sufficient for you to find out your competitors' top-performing keywords to crush them in search engine results.
Not only that, but it will also tell you which of their keywords are ranking in the top 3, top 4 to 10, etc. This information helps you to choose those keywords that bring your contender's more traffic from search engines.
Make sure that you have created a list of 50 to 100 good (potential and low search volume) keywords from each of your competitors by performing this step. That means, if you are performing keyword analysis even for 5 of your competitors, you will have a large list of around 300 profitable keywords in your database. That's enough for you to come up with year-long topic ideas for your sites to increase traffic.
Step 3: Target your competitor's backlink sources.
Now you get a list of top organic keywords of your competitor's; it's time to discover where their backlinks are coming from.
Why should you do a backlink analysis of your competitor's?
The simple reason is: Google gives the highest priority to backlinks. If your blog or website has a ton of backlinks from different sources, Google assumes you have an authority site and boosts your rankings, domain authority, search traffic, etc. So the site with more links usually gets better rankings. That's why backlink analysis is a must if you desire to steal your competitor's search traffic legally.

Let's find out how to utilize SEMrush for backlink analysis. Click on the "Backlink Analytics" tab under the "Link Building" feature on SEMrush to get your competitor's backlinks.

Here's a screenshot of SEMrush backlinks analysis.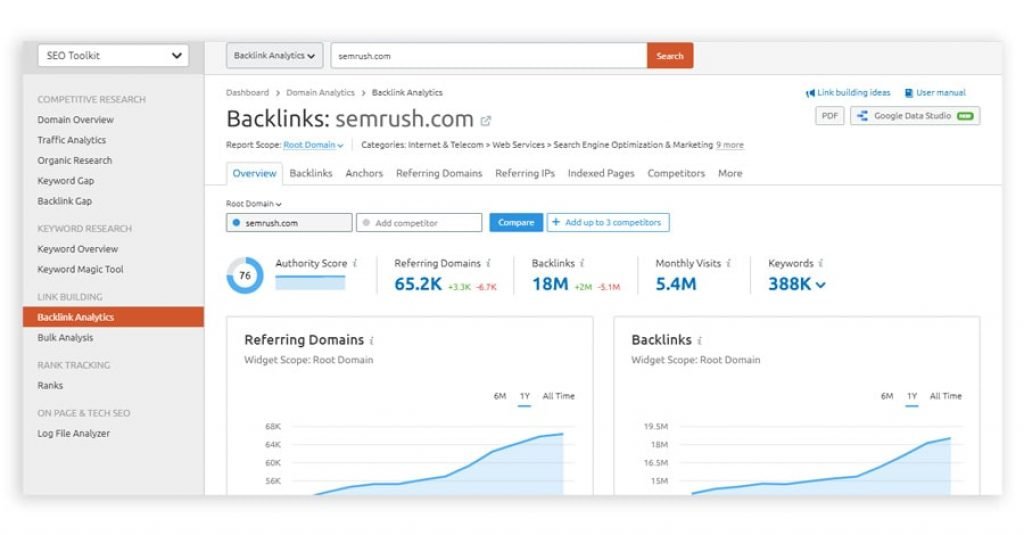 It has a whopping number of 18M backlinks in total.
You can get all of their do-follow backlink sources. Have a look;
You can also identify the anchor text for each link so you will have a great idea about what kind of contents are attracting more dofollow links. It can help you build a solid link building approach for your own site's content.
What to do when you get your competitor's backlink sources?
Choose a few of those sources, build content around those topics, and tell those bloggers that you have produced even better content. It is also known as the Skyscraper technique.
That way, your content gets dofollow links from various sources as soon as you publish. It can give you a significant impact on your search rankings, and thus you can increase your search traffic immediately.
Step 4: Develop a unique and detailed content after competitor analysis
In steps 2 and 3, we figured out two significant things: top organic keywords and backlink sources of your competitor's.
To steal your competitor's search traffic legally, you require one final thing to do: produce top-notch and detailed content. Here's what you can do after completing steps 2 and 3 from this guide.
Utilize your competitor's keyword data to come up with blog post ideas.
Allocate quality time to research those topics.
Spend extra time to write detailed blog posts (with over 2000 words as they rank well in search engines).
Reach out to those bloggers who have previously linked your competitor's sources and let them know that you have published even more useful content. Even if the majority of them don't provide a link to your content, you will still get search traffic to your sites because you are generating content that's already determined to be going viral on Google.
Yes, this step only (create detailed and unique content) takes time and some serious effort. But that's what Google SEO optimization is all about. Once you take care of your content that's both search engine and user friendly, you can receive the best rewards in traffic and sales.
Here are a few useful tips for you to create in-depth content that stands well in search engines.
Always do precise research of the top 10 results for your targeted keywords. Find out how they rank well on Google and also take a note of all the points that are missing in those pages. That way, it becomes simple for you to write in-depth content covering almost every point related to your topic.
While producing content, also make sure to link to your articles. Internal linking plays a significant role in SEO.
Use lots of screenshots. Otherwise, consuming a detailed article (like this post) can be challenging for your readers. Use proper titles and meta descriptions for your posts for better rankings.
Use SEMrush sensibly. Use related keywords and optimize them in your titles, subheadings, and images to rank higher in Google.
All in all, SEMrush encourages you to stop guessing what your visitors need and provides you detailed information on what works.
Final step: Apply site audit to control your website's performance on Google
If you need long term advantages from Google, we have another excellent recommendation for you, which you can do efficiently only using SEMrush, and that is a "site audit."
It helps you observe your site performance on Google, and it also helps you find and fix your site issues. So you can quickly raise your rankings even if your site rankings go down. Here's how it looks like
SEMrush site audit features encourage you to do the following things:
Easily monitor your search rankings
Find out your keyword positions
Check your site health
Find and fix your site related SEO issues
Improve your search visibility
Get access to all your site's search-related data at one place
SEMrush is an all in one SEO tool that benefits you to find your competitor's keywords, backlinks, traffic, etc. so you can apply that information to create a firm content policy to grow your site in Google.
If you are looking to get more traffic and backlinks by doing competitor's analysis, SEMrush is your go-to SEO tool.
Final Thoughts
Taking your competitor's search traffic includes two major steps: getting your competitor's organic keywords and the other is to know their backlink sources.
Once you have done that, you can build great content around your chosen topics to draw more backlinks, shares, and traffic from search engines. To do all this stuff, you need SEO help. That's where SEMrush comes into play.
It works as an SEO expert for you to expand your search traffic and sales promptly. So what are you waiting for?