Do you want to raise your income through AdSense? You are using strategies but still not able to increase your AdSense income? If yes, then this post is for you then. This post will cover three simple steps you can apply to instantly improve your AdSense revenue with an incredible tool called SEMrush.
Let's move forward to know more about it.
What is SEMrush?
SEMrush is a one-stop platform for all SEO tools that can be utilized to do keyword research, backlink analysis, site audit, etc. It is the #1 tool backed by more than 40 SEO experts. It's also the tool that helped users increase website search traffic by more than 5000 visitors within 30 days. It's also the widely accepted SEO tool used by more than 6 million people globally.
In this tutorial, we will see how you can utilize SEMrush to increase your AdSense income. Let's get started.
3 Steps are them that can help you improve AdSense Revenue Using SEMrush
Step 1: Enhancing your website traffic (information vs. commercial keywords)
Nearly everyone who desires to make money online is looking for ideas to use AdSense.
While improving AdSense revenue is not impossible as it requires merely raising your website traffic first. Without enhancing your site's traffic, you won't get anything from AdSense ads.
And another thing you need to keep in mind while building your website traffic is this: Every keyword is different. You can discuss your blog's most trending topics, but it can not assure that you can increase your AdSense income. Why? The reason is your AdSense profits are directly related to your audience.
If you reach a targeted audience, then you can make more money from AdSense. It's as easy as that. There are two kinds of keywords.
Informational keywords
Commercial intent keywords
Let's talk about these two keyword varieties now so you can not only boost your website traffic using SEMrush but also enhance your website earnings.
Information Vs. commercial intent keywords
What are informational keywords, and why employ them?
Informational keywords serve you to increase your website traffic. They usually give valuable information to your audience. If your blog is linked to fitness, the following keywords relate to the informational keywords category.
What are fitness, best fitness tips, how to stay fit, how to reduce stomach fat, etc.?
What are commercial intent keywords, and why should you apply them?
Commercial intent keywords assist you in increasing your website's income. These keywords usually have the potential to improve your earnings by creating awareness. Again, let's imagine your blog is associated with the fitness industry, and here are the commercial intent keywords for it: Best fitness tools, fitness training, fitness coaching, best fitness classes, etc. (where you can add relevant AdSense ads or product links to improve your earnings).
How to discover the commercial intent keywords using SEMrush?
Now that you understand commercial intent, keywords are what aid you increase Google AdSense Revenue. So let's discuss how to use them. Here's an easy step by step tutorial on using SEMrush to find the most profitable keywords.
First, let's take a real-time case, so it becomes clear for you to understand. Let's say your site includes all the topics around fitness; here's how it goes.
Step 1: Go to the SEMrush dashboard and insert any keyword related to diet. In this case, the keyword is "baby care." Make sure to choose the US database (usually, it has a high CPC, and you can make more money from AdSense).
For our targeted keyword, the CPC (cost per click) is excellent at $2.1.1 That means for each click you get for that keyword, you can make about $1.5. That's a large amount.
Since the "baby care," monthly search volume is huge, with over 2.9.K searches. So let's get the low, competitive keywords but with about the same CPC.
Step 2: In the second step, finding low, competitive keywords should be your aim. So let's now scroll down to find the phrase match and relevant keywords but with good CPC.
The above screenshot shows us the phrase match keywords where you can understand that both "home fitness equipment" and "life fitness equipment" have adequate search volume (6000 monthly searches). If you need to rank for even low search keywords, go for keywords in 500 monthly searches.
Step 3: Now, simply use those keyword terms while building your content and watch your search rankings and profits go up. That's how you can utilize SEMrush to find great AdSense keywords.
Step 2: Getting and utilizing your competitors high paying keywords
In the above step, we've explained how you can utilize commercial intent keywords to improve your traffic and earnings. In this step, let's talk about how you can discover unlimited AdSense Revenue approaches.
The secret strategy most high paying AdSense users use is this: they spy on their contenders. They get and use the best performing keywords of their competitors.
How can you do that? Again, SEMrush comes into the picture to get competitor's keyword research.
Here's an easy step by step tutorial on how to get your competitors high paying AdSense keywords.
Step 1: Identify what keywords your competitors are using to increase their income and search traffic, scroll down the SEMrush, and find the "Organic Search Results."
Here's the screenshot of it.
If you click on any of those links, you will get complete information about the keywords. Let's see the information about the #1 result.
Step 2: Now, let's discover your competitor's top performing keywords related to your "targeted keyword."
To find organic keywords of your contenders, go to Organic Research, and insert your competitor's domain.
Voila! Just click on the "Keywords" to see a list of all their top ranking keywords. Now, you can either utilize those keyword combinations or click any one of those links to find additional matching keywords to improve your AdSense Revenue.
Step 3: Utilizing the RIGHT AdSense income boosting tactics
In the above two steps, we've covered how you can utilize SEMrush to lead "targeted visitors" to your sites to improve your chances of making more money from AdSense. In the last step, we will include how you can use a few established strategies to increase your AdSense revenue.
Use the right AdSense sizes: By utilizing the right ad sizes on your sites, you can instantly increase your ad visibility and clicks. That being said, here are 4 of the best AdSense sizes that can help you improve your earnings.
728*90
336*280
160*600
300*250
Publish a long-form of content: Whether you recognize it or not, your content acts as a HUGE role in getting better search rankings. Most amateurs think they can get more search engine traffic by posting more extra content. But it's wrong.
Publishing daily content won't work. What else works then? Creating a long-form content as more in-depth your articles are (typically above 1500 words), the better rankings you will receive.
Read also: How to Grab the Blog Post Ideas by Using SEMrush
Have a look at the screenshot below, and you will notice that the average word count of most top 10 search results is about 2000 words.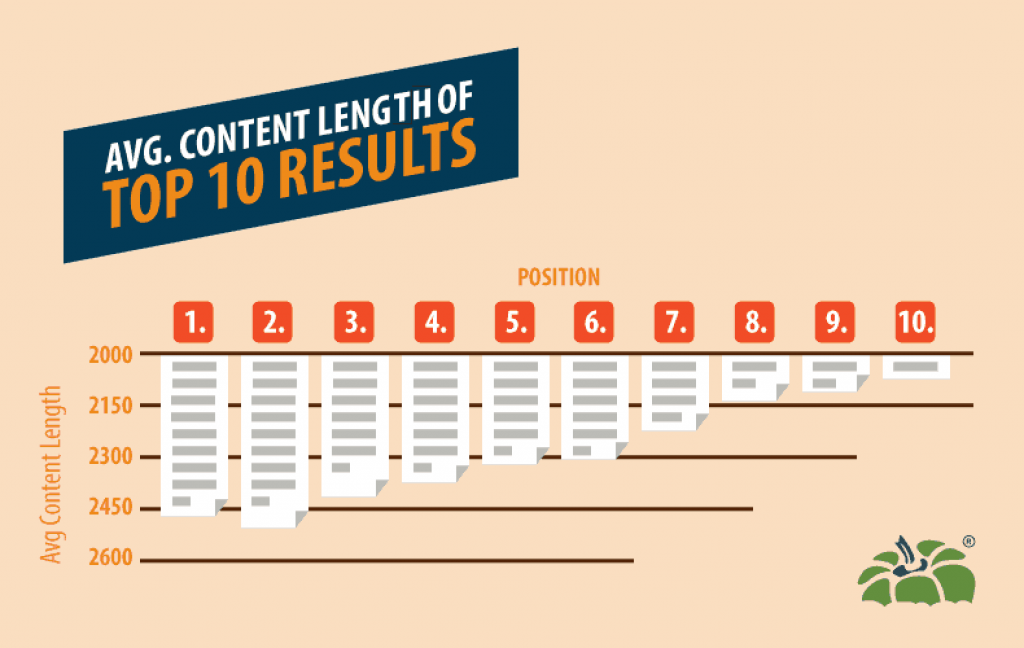 And don't ignore using long-tail keywords while building your content. Also, make sure to optimize your content with on-page SEO optimization properly. Utilize your primary keyword in your title, subheadings, URL, image alt text, and body to better search engine rankings.
Don't use too many AdSense ads: As per Google AdSense guidelines, you can only apply three ads at a maximum per page. Few newcomers don't understand this important thing, and they paste all over their sites, which leads to getting their account banned.
To avoid that error and make sure to place your ads in the right places by picking the right colors. You can pick any color you want for your links and edges but make sure they are correctly matching up with your website's design.
Smart sizing: There's a method called AdSense smart sizing, which is the most valued method to increase AdSense revenue. It encourages you to put the best ad unit size depending on the available space. For smart sizing to work correctly, you must set a width to the parent vessel at every different resolution. You can use your <div> container set to 100%, so it automatically adjusts according to the browser size.
Use responsive ads: Not only people are utilizing desktops to browse information online. Mobile internet usage has drastically changed since the last three years. If your AdSense ads are not mobile responsive, you miss a lot of traffic and money on the table.
The most excellent way to use responsive ads is to make your site mobile friendly. Using a simplistic and free WordPress plugin called WPTouch can help you immediately turn your site into mobile responsive. This also can assist you in turning all your AdSense ad units into responsive ads.
Final Thoughts
Improving AdSense revenue is not tricky when you have the right tools. No one can raise their search engine traffic or AdSense income without applying the proper keywords, blog post ideas and SEO techniques.
Here's where a tool like SEMrush comes into action when it helps you immensely get profitable keywords, spying on your competitor's best keywords, and boosting your website traffic.
Using the three simple steps discussed in this tutorial, you can instantly improve AdSense revenue using SEmrush, so make sure to grab their 7 days free trial.